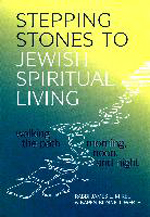 Uno de los aspectos más atractivos del movimiento neo-jasídico es el empeño por hacer de cada acto cotidiano, de cada rutina, del detalle más simple del día un servicio del corazón. En muchas de las obras de los rabinos más conocidos del movimiento podemos ver este deseo de servicio a Dios a cada paso, con cada palabra.
Este libro pretende ser una guía espiritual a ese renacimiento cotidiano, a ese redescubrir la presencia de Dios en cada aspecto de la existencia y cómo debe se la relación con ello.
Estructurado con la secuencia del día – amanecer, mañana, mediodía, tarde, noche y medianoche – muestra los distintos aspectos de relación - éticos, por lo tanto – con el prójimo, con uno mismo, con el medio y con Dios. Y desde los textos clásicos de la tradición judía – Torá, Talmud, Kabalá – muestra cómo hacerlo significativos, cómo traer lo sagrado a lo cotidiano, cómo servir a Dios desde el corazón en cada una de las oportunidades que la vida nos presenta.
…………………….
Tomado
de la editorial, Jewish Lights Publishing :
In every moment of each day, we have the opportunity to bring the sacred into our everyday lives. We can perform acts of mindfulness and thanksgiving that can transform our lives and help us repair the world.
Stepping Stones to Jewish Spiritual Living provides spiritual activities, meditations, prayers, and simple rituals to accommodate any lifestyle and daily routine, giving us a chance to embrace God's creation throughout the day. Co-authored by a rabbi and a psychotherapist, it bridges the gap between faith and healing, tradition and innovation, acceptance of the past and transformation for the future.
Chapters are arranged according to the cycle of each day--from sunrise to midnight--and feature creative new rituals, inspiring passages from traditional Jewish texts, prayers, poems, blessings, acts of kavannah (spiritual intention), and more: Sunrise: Renewing our bodies with meditation and mindful breathing. Morning: Contributing to tikkun olam (repairing the world) by ethically pursuing our livelihoods and recognizing our social responsibilities. Afternoon: Giving thanks with blessings at meal times, and extending hospitality to family, friends, and community. Evening: Combining study and prayer with relaxation and leisure. Night: Confronting pain, loss, and death with rituals for healing and renewal for the future.
The book also includes special sections dealing with the sacred aspects of relationships, love and sexuality, mourning and loss, Kabbalah, and more. By transforming our days, Stepping Stones shows us how we can transform our lives to practice mindfulness all day, every day—and transform the ordinary into the extraordinary.