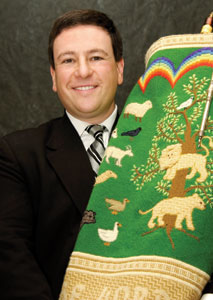 NRT, Rabbi Cukierkorn go separate ways
Plans are currently underway to launch a new reform congregation in Kansas City. Its new spiritual leader will be Rabbi Jacques Cukierkorn, who just severed his relationship with the New Reform Temple. (For more information, see below.) Known by the name Temple Israel for now, it held services for the first time Friday, April 1, at St. Thomas the Apostle Episcopal Church in Overland Park. Rabbi Cukierkorn said services would be held there again tonight, Friday, April 8, at 6 p.m. at 12251 Antioch Road in Overland Park, and for the foreseeable future. For more information, contact Rabbi Cukierkorn at (913) 940-1011.
The 43-year-old native of Brazil came to Kansas City 10 years ago to serve as the rabbi for The New Reform Temple. Following several months of negotiations, that relationship ended last week.
"We reached a mutually agreeable deal. Sadly, it wasn't the outcome that we wanted, but we are very pleased that we will be able to stay in town," Rabbi Cukierkorn said this week.
Another key component of the agreement, which remains confidential, allows the Reform rabbi to serve another synagogue here in the city.
"This has been our home for 10 years. Our kids have grown up here, and one of our daughters was born here. I'm glad a group has asked us to stick around," he said. He and his wife, Denisse, and their two daughters live in Overland Park.
Forming new ties
Congregants have helped shaped new synagogues here in Kansas City several times in recent history. Congregation Beth Torah was established in April 1988 following a leadership struggle at The Temple, Congregation B'nai Jehudah. Another rabbinic shuffle in the community helped create Or Hadash, a Reconstructionist congregation formed in June 2003 (which folded in the spring of 2010), and Kol Ami, which was established in June 2003.
Rabbi Cukierkorn, who serves as vice-president of the Society for Classical Reform Judaism and is a former president of the Rabbinical Association of Greater Kansas City, said about 50 people attended services last week with just one day's notice. Approximately 50 families to date have expressed interest in helping form the new congregation.
"We want to form a congregation that is truly inclusive and welcoming and diverse. We will welcome people who have different levels of commitment to Judaism," he said.
He stressed that absolutely nothing about a new congregation has been finalized yet, including the congregation's name. In the first draft of the congregation's proposal, it states, "As a congregation-oriented organization, the vision, mission, governance, services and even the name of our temple or synagogue will be determined through discussion and consensus."
Rabbi Cukierkorn expects that the congregation will look for a more permanent site to meet in the future. Many of the families who attended the first service have been affiliated with The New Reform Temple, which is located at 7100 Main in Kansas City, Mo., but Rabbi Cukierkorn stated that he is not "aiming to take anyone from The New Reform Temple."
"Some may leave and follow me, some may leave and go elsewhere and some may stay. My aim is not to hurt the congregation," Rabbi Cukierkorn said.
The rabbi was able to organize the first service last week on such a short notice with a little help from his friends. A colleague, The Rev. Gar Demo at St. Thomas the Apostle Episcopal, offered the meeting space. Rabbi Cukierkorn already owned a Torah, and he learned that Debby Simon still had an ark from her days as an Or Hadash board member.
"I asked her if she would lend it to me, rent it to me or sell it to me," Rabbi Cukierkorn said. "She said she ran into many obstacles when she was trying to organize Or Hadash and that only one rabbi offered support: me! So, she said she would be honored to give it to us as a gift."
Rabbi Cukierkorn has many ideas he hopes to incorporate, with input from other organizers, in a new congregation. For instance, instead of running a traditional, standardized religious school, he proposes congregants be given the opportunity to develop their own IJPs, or Individual Jewish Plans to promote life-long Jewish learning.
"In schools children get IEPs (Individual Education Plans). We will work together to set education goals and focus on experiential learning and community building," he said. "As a rabbi I am certainly capable of running a religious school, but I have come to believe that religious school alone can be detrimental to a Jewish education. With an IJP, we will work together to set educational goals, where congregants can learn on their own, with the rabbi or as part of study groups, according to their schedules. Our shul will focus on experiential learning and community building," he said.
His vision calls for Sundays to be mostly family days. Instead of gathering together every Sunday morning at religious school, he hopes families will celebrate Shabbat at home and together at services every Friday evening. Then, several times a year, he proposes a day-long activity for congregants, allowing both learning and social components.
The rabbi, who has published several books, is also known for his work with interfaith families and his travels to help people learn about Judaism in Latin America and Europe. He hopes to be able to continue working in those areas at a new congregation and make this international outreach an integral part of the new congregation identity.
"We have lots of ideas. But most importantly we want to engage the whole family and make Judaism meaningful for them."
A Facebook page for Temple Israel has already been created. It can be viewed by searching Temple Israel in Kansas City.
http://www.kcjc.com/index.php?option=com_content&view=article&id=322:nrt-rabbi-cukierkorn-go-separate-ways&catid=1:latest-news&Itemid=27